In observance of Memorial Day, we will be closed on Monday, May 28th, 2018.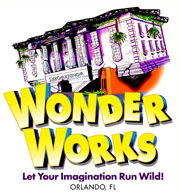 WonderWorks™ is an amazing Panama City Beach attraction where scientific principles and fun come together to provide an unrivaled educational experience. The laws of nature and probability interact with human skills and perceptions to create some of the most mind boggling, head scratching virtual challenges, mental challenges and physical challenges. Save $4 per person

Wonderworks is a playground for the mind that has more than 100 interactive exhibits to explore. You can Land a Space Shuttle by maneuvering controls with hand and eye coordination. Fly an F14 and F18 fighter jet complete with visual effects. Jump into a real Space Suit and Mercury Capsule and get you picture taken. Become part of a 3-dimensional world while playing basketball or soccer. Experience a live Earthquake in this simulator measuring 5.3 feels like the real thing. Enter a Desert War in Global VR. This virtual reality exhibit will have you combat ready! Step into a life size bubble in the Bubble Lab. Ever wonder what it was like to lay on a Bed of Nails? Well you can lay on 3,500 sharp nails and feel the sensation or press into a wall made of 40,000 pins and create a 3-dimensional impression on the Wonder Wall. Many more unique exhibits to see and explore.