In observance of Memorial Day, we will be closed on Monday, May 28th, 2018.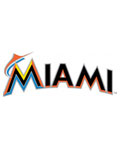 Members save 30% on select Miami Marlins games. Come watch the Marlins like you have never seen them before. With their new logo, new Ballpark and talented new players – the Miami Marlins are back in a big way!
Come get a whiff of that new Ballpark smell and cheer on the Miami Marlins as they battle to be one of the best teams in the National League. The best part is you don't have to fight that crazy Miami weather because with their state of the art retractable roof, you can enjoy the game surrounded by one of mankind's greatest inventions, air conditioning! Choose from the wide selection of the fabulous cuisine offered at the new Marlins stadium from the classic hotdog and popcorn to some local flavors like Cuban sandwiches and juicy steak tacos. The stadium isn't the only enhancement; the improved line-up is guaranteed to produce some world-class baseball!