In observance of Memorial Day, we will be closed on Monday, May 28th, 2018.
Scooter Vacations - ScootOrlando.com
15% off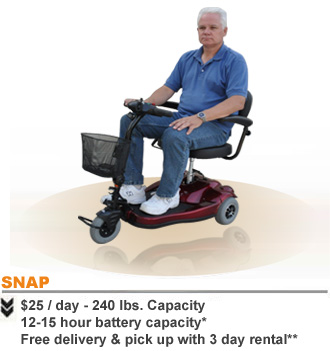 Receive 15% off & free delivery & pick up within a 10 mile radius of Disney World, Universal Orlando, or Sea World with any rental of 3 days or more.
Scooter Vacations at ScootOrlando.com offers the widest range of mobility scooters for visitors to Orlando. Four of our models are lightweight and transportable for those commuting to the theme parks and handling up to 450 lbs capacity.We guarantee a full theme park day ride time of 12-15 hours. We handle reservation inquiries from 6 am to 11 pm 365 days a year as well as provide 24 hour customer service while guests are here on their scooters.?We also will go into a park to service a customer. We are the only scooter rental company to offer this level of customer service and quality of product.