In observance of Memorial Day, we will be closed on Monday, May 28th, 2018.
The Gazillion Bubble Show
40% off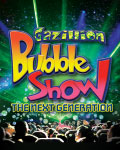 Members save over 40% on tickets! The Most UNBUBBLIEVABLE Family Show in New York!
Step into the UNBUBBLIEVABLE interactive stage production, the first and only of its kind, complete with fantastic light effects, lasers and jaw-dropping masterpieces of bubble artistry. A truly spectacular treat to be cherished by the whole family! Experience something you have never seen before!
Everyone must have a ticket! (Reduced priced "Lap Tickets" are available in person at the Box Office for children under the age of 2 who will be sitting in their parent/guardian's lap - Cash only.)